Series Details
Advent
November 28, 2020 - December 2, 2023
Sermons: 13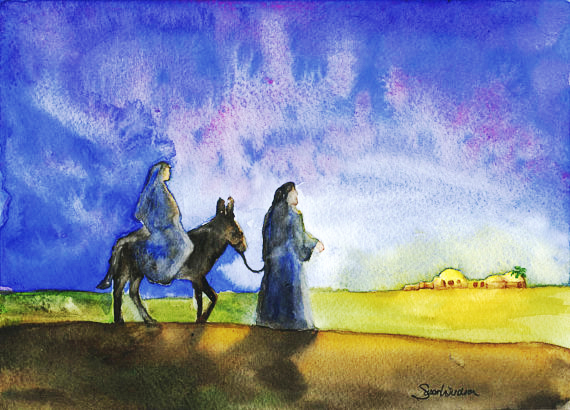 Sermon Date: December 3, 2023
Advent; A Marriage Proposal
Isaiah 43:1-5:
"1 Israel, the Lord who created you says, "Do not be afraid—I will save you. I have called you by name — you are mine. 2 When you pass through deep waters, I will be with you; your troubles will not overwhelm you. When you pass through fire, you will not be burned; the hard trials that come will not hurt you. 3 For I am the Lord your God, the holy God of Israel, who saves you. I will give up Egypt to set you free; I will give up Ethiopia and Seba. 4 I will give up whole nations to save your life, because you are precious to me and because I love you and give you honor. 5 Do not be afraid — I am with you! "From the distant east and the farthest west, I will bring your people home."
Isaiah 43:10-13:
"10 People of Israel, you are my witnesses; I chose you to be my servant, so that you would know me and believe in me and understand that I am the only God. Besides me there is no other god; there never was and never will be. 11 "I alone am the Lord, the only one who can save you. 12 I predicted what would happen, and then I came to your aid. No foreign god has ever done this; you are my witnesses. 13 I am God and always will be. No one can escape from my power; no one can change what I do."
Isaiah 43:18-19:
"18 "But the Lord says, "Do not cling to events of the past or dwell on what happened long ago. 19 Watch for the new thing I am going to do. It is happening already — you can see it now! I will make a road through the wilderness and give you streams of water there."
Joel 2:12-13:
"12 'But even now,' says the Lord, 'repent sincerely and return to me with fasting and weeping and mourning. 13 Let your broken heart show your sorrow; tearing your clothes is not enough.' Come back to the Lord your God. He is kind and full of mercy; he is patient and keeps his promise; he is always ready to forgive and not punish."
Isaiah 62:1-5:
"1 I will speak out to encourage Jerusalem; I will not be silent until she is saved, And her victory shines like a torch in the night. 2 Jerusalem, the nations will see you victorious! All their kings will see your glory. You will be called by a new name, A name given by the Lord himself. 3 You will be like a beautiful crown for the Lord. 4 No longer will you be called "Forsaken," Or your land be called "The Deserted Wife." Your new name will be "God Is Pleased with Her." Your land will be called "Happily Married," And will be like a husband to your land. 5 Like a young man taking a virgin as his bride, He who formed you will marry you. As a groom is delighted with his bride, So your God will delight in you."


Sermon Date: December 18, 2022 Lyrics to Stand By Me (Ben E. King, 1962)

When the night has come
And the land is dark
And the moon is the only light we'll see
No, I won't be afraid
No, I won't be afraid
Just as long as you stand
Stand by me
Stand by me, stand by me
If the sky that we look upon
Should tumble and fall
Or the mountains should crumble to the sea
I won't cry, I won't cry
No I won't shed a tear
Just as long as you stand
Stand by me

Matthew 1:21-23

"She will give birth to a son, and you are to give him the name Jesus, because he will save his people from their sins." "All this took place to fulfill what the Lord had said through the prophet: "The virgin will conceive and give birth to a son, and they will call him Immanuel (which means "God with us")."

Matthew 28:20

"Surely I am with you always, to the very end of the age."

Revelation 21:3

"And I heard a loud voice from the throne saying, "Look! God's dwelling place is now among the people, and he will dwell with them. They will be his people, and God himself will be with them and be their God."

Sermon Date: December 11, 2022 Psalm 146 "1 Praise the Lord. Praise the Lord, my soul. 2 I will praise the Lord all my life; I will sing praise to my God as long as I live. 3 Do not put your trust in princes, in human beings, who cannot save. 4 When their spirit departs, they return to the ground; on that very day their plans come to nothing. 5 Blessed are those whose help is the God of Jacob, whose hope is in the Lord their God. 6 He is the Maker of heaven and earth, the sea, and everything in them — he remains faithful for ever. 7 He upholds the cause of the oppressed and gives food to the hungry. The Lord sets prisoners free, 8 the Lord gives sight to the blind, the Lord lifts up those who are bowed down, the Lord loves the righteous. 9 The Lord watches over the foreigner and sustains the fatherless and the widow, but he frustrates the ways of the wicked. 10 The Lord reigns for ever, your God, O Zion, for all generations. Praise the Lord."

Sermon Date: December 4, 2022 Matthew 3:1-6 "In those days John the Baptist came, preaching in the wilderness of Judea and saying, 'Repent, for the kingdom of heaven has come near.' This is he who was spoken of through the prophet Isaiah: 'A voice of one calling in the wilderness, "Prepare the way for the Lord, make straight paths for him." ' John's clothes were made of camel's hair, and he had a leather belt round his waist. His food was locusts and wild honey. People went out to him from Jerusalem and all Judea and the whole region of the Jordan. Confessing their sins, they were baptised by him in the River Jordan." Isaiah 11:2 "The Spirit of the Lord will rest on him — the Spirit of wisdom and of understanding, the Spirit of counsel and of might, the Spirit of the knowledge and fear of the Lord —" St. Paul shows the pattern the Spirit dresses us as he did Isaiah, John the Baptist, Jesus and us: 1 Corinthians 15:53; 2 Corinthians 5:2-4 "For the perishable must clothe itself with the imperishable, and the mortal with immortality." "Meanwhile we groan, longing to be clothed instead with our heavenly dwelling, because when we are clothed, we will not be found naked. For while we are in this tent, we groan and are burdened, because we do not wish to be unclothed but to be clothed instead with our heavenly dwelling, so that what is mortal may be swallowed up by life." Galatians 3:27 "... for all of you who were baptized into Christ have clothed yourselves with Christ." Ephesians 4:22-24 "You were taught, with regard to your former way of life, to put off your old self, which is being corrupted by its deceitful desires; to be made new in the attitude of your minds; and to put on the new self, created to be like God in true righteousness and holiness." Colossians 3:9-12 "Do not lie to each other, since you have taken off your old self with its practices and have put on the new self, which is being renewed in knowledge in the image of its Creator. Here there is no Gentile or Jew, circumcised or uncircumcised, barbarian, Scythian, slave or free, but Christ is all, and is in all. Therefore, as God's chosen people, holy and dearly loved, clothe yourselves with compassion, kindness, humility, gentleness and patience."

Sermon Date: November 27, 2022 Matthew 24:36-44 "36 But about that day or hour no one knows, not even the angels in heaven, nor the Son, but only the Father. 37 As it was in the days of Noah, so it will be at the coming of the Son of Man. 38 For in the days before the flood, people were eating and drinking, marrying and giving in marriage, up to the day Noah entered the ark; 39 and they knew nothing about what would happen until the flood came and took them all away. That is how it will be at the coming of the Son of Man. 40 Two men will be in the field; one will be taken and the other left. 41 Two women will be grinding with a hand mill; one will be taken and the other left. 42 Therefore keep watch, because you do not know on what day your Lord will come. 43 But understand this: if the owner of the house had known at what time of night the thief was coming, he would have kept watch and would not have let his house be broken into. 44 So you also must be ready, because the Son of Man will come at an hour when you do not expect him." Philippians 3:14 "I press on towards the goal to win the prize for which God has called me heavenwards in Christ Jesus."

Sermon Date: December 19, 2021 Luke 1:46-55 — "The Magnificat" 46 And Mary said: "My soul glorifies the Lord 47 and my spirit rejoices in God my Savior, 48 for he has been mindful of the humble state of his servant. From now on all generations will call me blessed, 49 for the Mighty One has done great things for me — holy is his name. 50 His mercy extends to those who fear him, from generation to generation. 51 He has performed mighty deeds with his arm; he has scattered those who are proud in their inmost thoughts. 52 He has brought down rulers from their thrones but has lifted up the humble. 53 He has filled the hungry with good things but has sent the rich away empty. 54 He has helped his servant Israel, remembering to be merciful 55 to Abraham and his descendants forever, just as he promised our ancestors."

Sermon Date: December 12, 2021 The darkness of evil which seems to grow among us is bad. But it also means the day of Christ's return drawers nearer. The good news is that evil and Satan have already lost. The victory over sin, death and the devil are ours in Christ, now, today! Promises of God: Isaiah 42:16. "I will lead the blind by ways they have not known, along unfamiliar paths I will guide them; I will turn the darkness into light before them and make the rough places smooth. These are the things I will do; I will not forsake them." Acts 26:17-18. "I will rescue you from your own people and from the Gentiles. I am sending you to them to open their eyes and turn them from darkness to light, and from the power of Satan to God, so that they may receive forgiveness of sins and a place among those who are sanctified by faith in me.'"

Sermon Date: December 5, 2021 Life blenders; what are we putting into them? What is coming out of the mix? Galatians 5:19-26 19 The acts of the flesh are obvious: sexual immorality, impurity and debauchery; 20 idolatry and witchcraft; hatred, discord, jealousy, fits of rage, selfish ambition, dissensions, factions 21 and envy; drunkenness, orgies, and the like. I warn you, as I did before, that those who live like this will not inherit the kingdom of God. 22 But the fruit of the Spirit is love, joy, peace, forbearance, kindness, goodness, faithfulness, 23 gentleness and self-control. Against such things there is no law. 24 Those who belong to Christ Jesus have crucified the flesh with its passions and desires. 25 Since we live by the Spirit, let us keep in step with the Spirit. 26 Let us not become conceited, provoking and envying each other. 1. Stirred for Mission 2 Timothy 1:6-10, Living Bible "I want to remind you to stir into flame the strength and boldness that is in you…For the Holy Spirit, God's gift, does not want you to be afraid of people, but to be wise and strong, and to love them and enjoy being with them." 2. A Stirring of Repentance Mark 1:15-16 "After John was put in prison, Jesus went into Galilee, proclaiming the good news of God. "The time has come," he said. "The kingdom of God has come near. Repent and believe the good news!" 3. Stirred for Assurance Hebrews 10:22-24 "... let us draw near with a true heart in full assurance of faith, with our hearts sprinkled clean from an evil conscience and our bodies washed with pure water. Let us hold fast the confession of our hope without wavering, for he who promised is faithful. And let us consider how to stir up one another to love and good works ..."

Sermon Date: November 28, 2021 Jeremiah lived and brought God's message to His people about 600 years before the birth of Christ. Because we remember the birth of Christ, I am including two prophecies of Jeremiah. Jeremiah 23:5-6 "The days are coming, declares the Lord, when I will raise up for David a righteous Branch, a King who will reign wisely and do what is just and right in the land. In his days Judah will be saved and Israel will live in safety. This is the name by which he will be called: The Lord Our Righteous Savior." Jeremiah 33:15-16 "In those days and at that time I will make a righteous Branch sprout from David's line; he will do what is just and right in the land. In those days Judah will be saved and Jerusalem will live in safety. This is the name by which it will be called: The Lord Our Righteous Savior." We live between two Advents. We await the second when Jesus returns and His bride, the Church will dwell in heaven with Him eternally.